As we know, the refrigerated trucks are used to transport frozen and perishable goods in the cold chain transportation. In order to use the refrigerator units and van body for longer time. Check the following advice of the engineers from CIMC VEHICLES SHANDONG CO.,LTD.
1. Good Air Circulation Within the Refrigerated Van Should Be Guaranteed
For better intakes and outlets of cooling air and keep balance of temperature inside of the freezer van, the cargo within the refrigerated truck van are better to be stacked a little far from the intakes and outlets.Some space the cargo and van roof is better to be left.
2. Reducing the Times Opening and Closing the Doors
Some of the refrigerated trucks manufactured by CIMC SHANDONG CO.,LTD. Are designed with side doors. When the side door or rear door of the refrigerated truck van is opened, the outside hot air flows inside, leading to the temperature increase of the refrigerated van body. On the one hand, it may influence the quality of the cargo; on the other hand, it will lead to more energy consumption.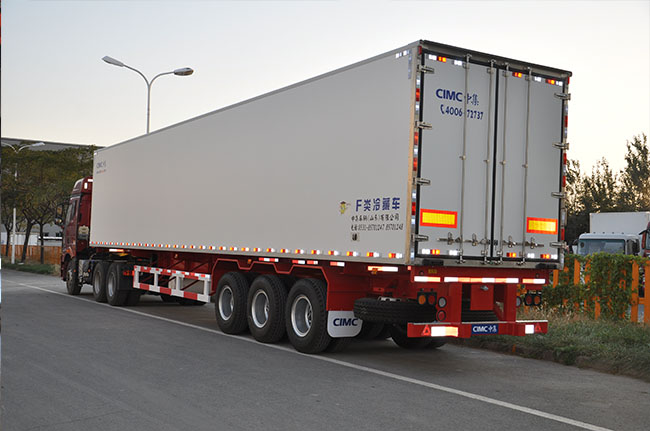 3. Cleaning Work Should Be Done Regularly
During the usage, a lot of dirt, such as the salt, fat and other material might be gathered in the evaporator by the coil as time goes on. These pollutants not only effect the beauty of the refrigerated truck van, but also shorten the life of the refrigerated van body and refrigerator units.The cooling effect of the refrigerated units might be influenced. So high attention should be paid to the cleaning work of the van.
4. Pre-cooling---Necessary Step Before Transporting
During the transportation, especially the long distance transportation, the Refrigeration units will work for a long time to adjust and keep proper temperature.The precooling function of the refrigerator could reduce the temperature preliminarily.So they could adjust to the temperature during the transportation.